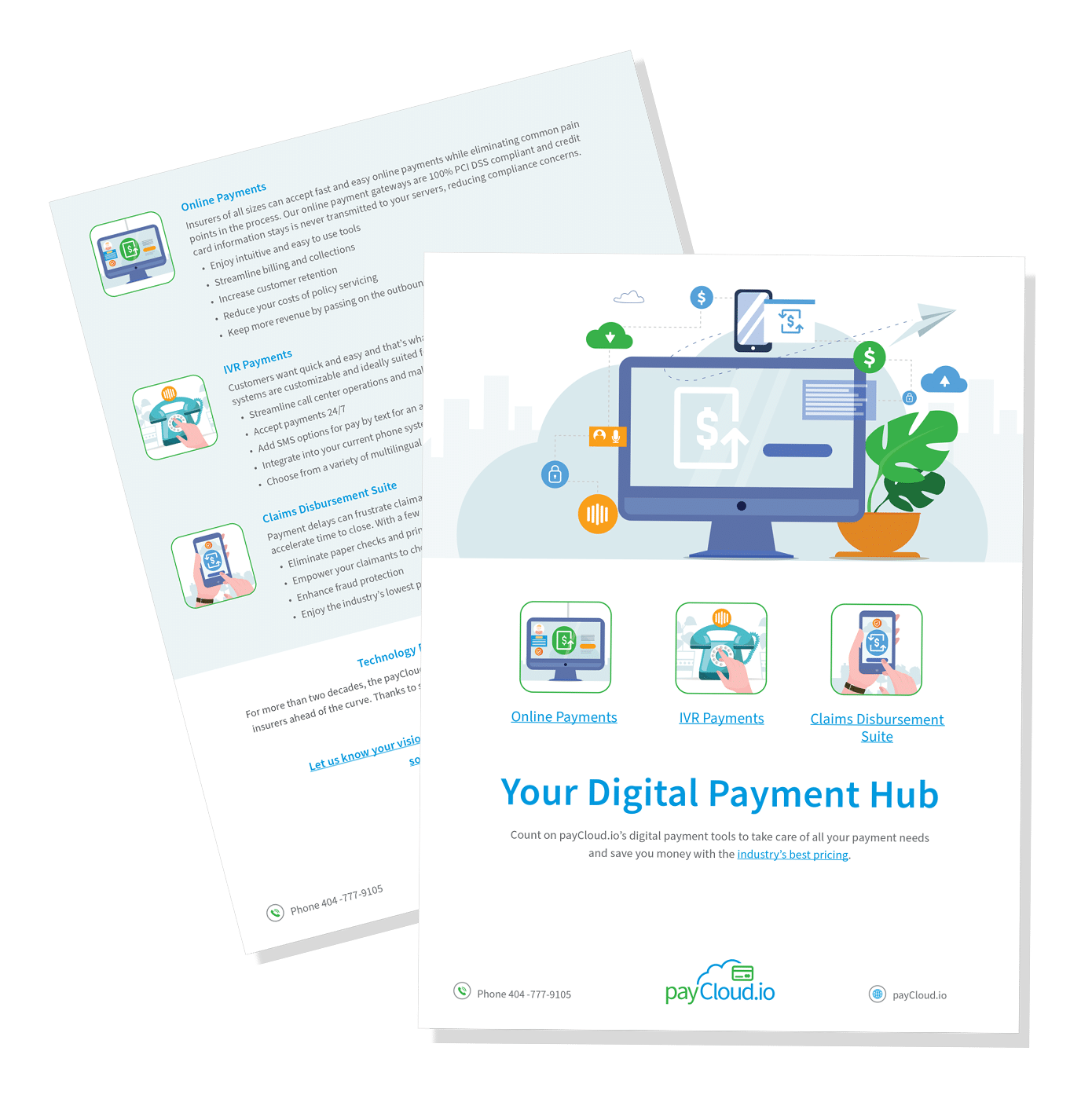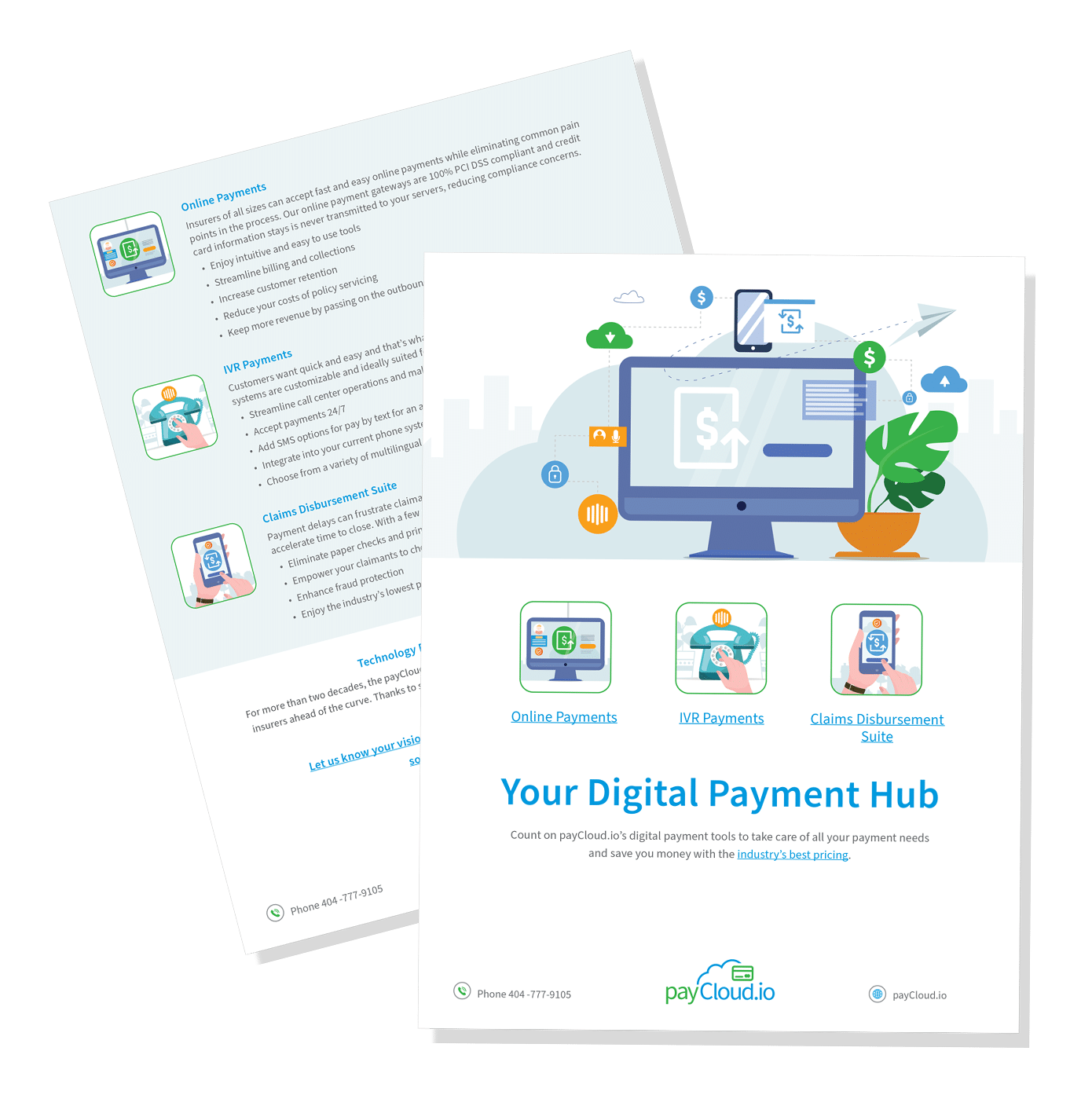 Payment Options Overview
From online payments, IVR payments to our Claims Disbursement Suite, learn more about our turn-key payment hub.
Interactive Voice Response (IVR)
Interactive Voice Response is a powerful addition to any insurer's strategy. From routing calls and taking payments over the phone, to outbound policy reminders, alerts and text-to-pay features, IVR frees up time for your team to handle the specialized needs of insureds.
payCloud.io Messenger
Communicate with your policyholders with ease. Whether its phone, text, e-mail or interactive voice response, Messenger makes it convenient and easy with preprogrammed, customized messages that are sent when specific triggers are met. Fully configurable, it can be integrated into any policy administration system. 
payNow – Online Payment Portal
This swift web-based portal allows policyholders to make timely payments without the extra steps of creating an account and remembering a password. Intuitive and easy to use, users can make a payment using just their policy number and zip code.  Drive policy retention and timely payments with this fully brandable tool.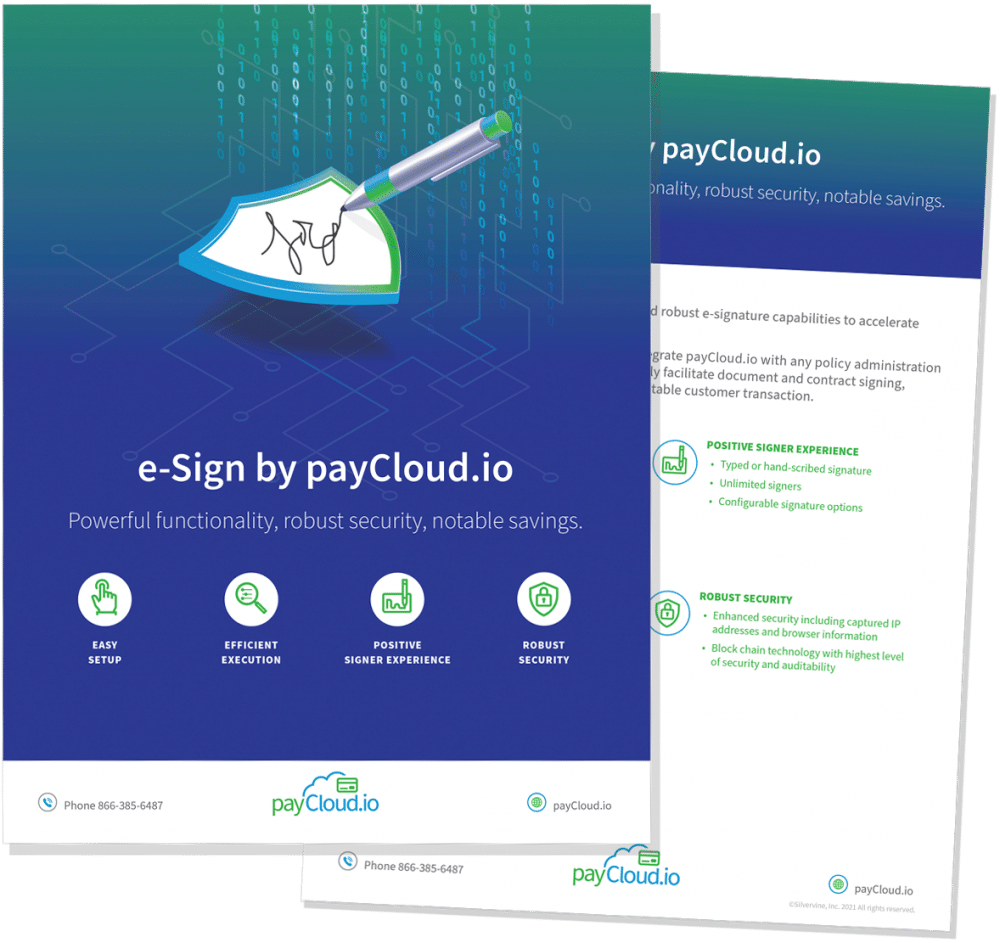 e-Sign by payCloud.io
Powerful electronic signature functionality with robust security and notable savings. Learn how you can quickly and affordably integrate e-Sign by payCloud.io with any policy admin system.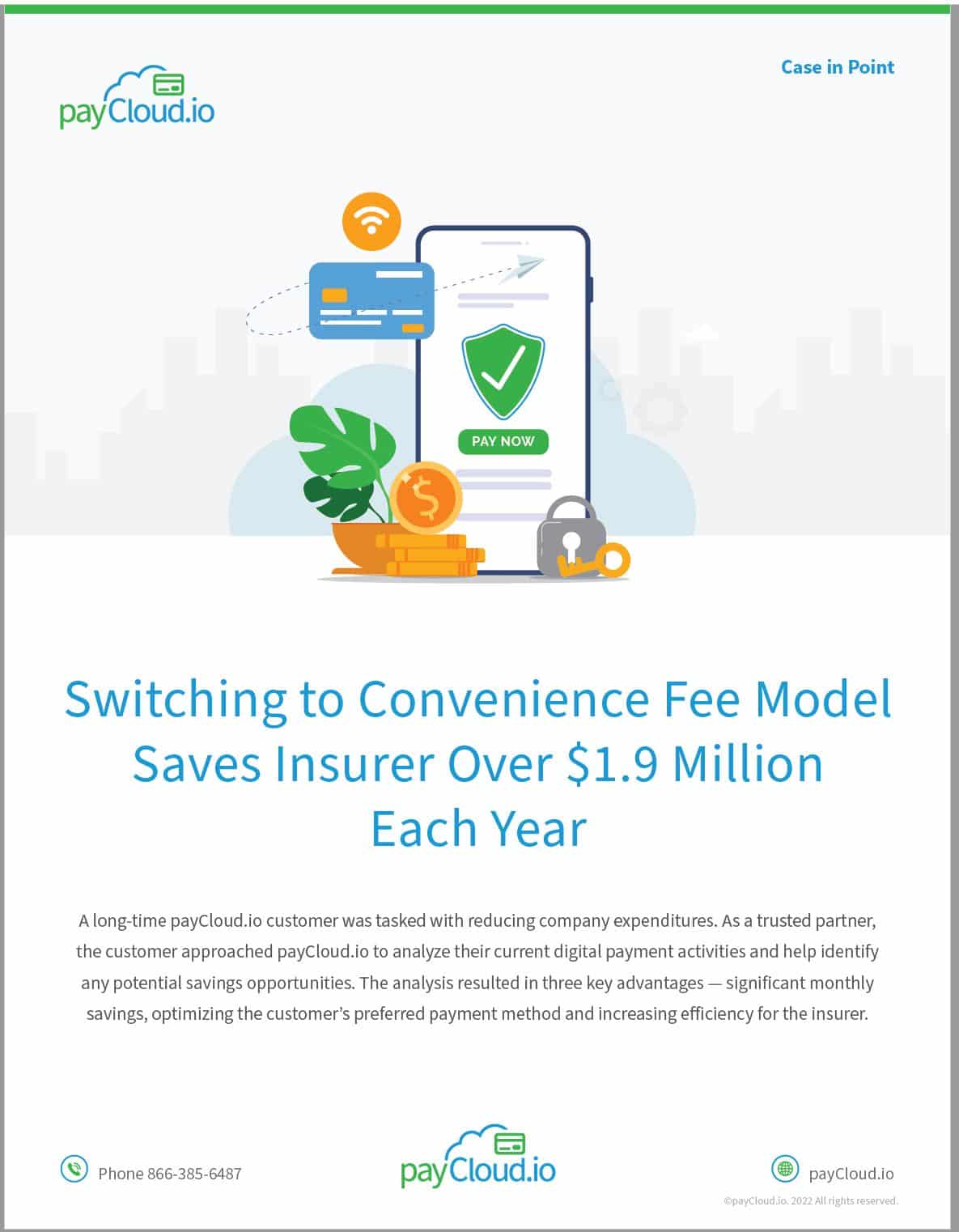 White Paper: Switching to Convenience Fee Model Saves Insurer Over $1.9 Million Each Year
Learn how a payCloud.io analyzed a customer's digital payment activities and helped identify savings opportunities. The analysis resulted in three key advantages — significant monthly savings, optimizing the customer's preferred payment method and increasing efficiency for the insurer.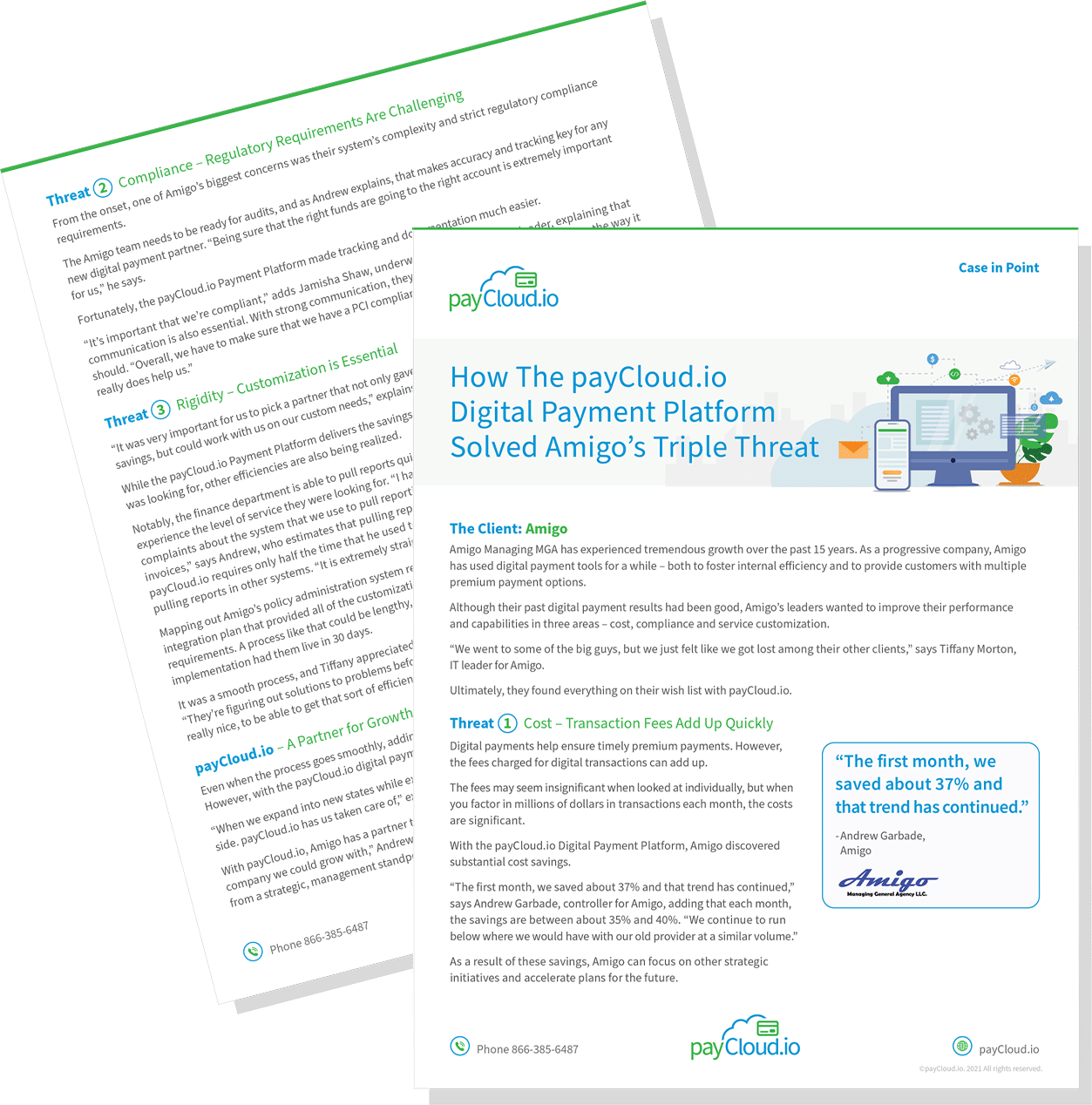 Case Study: How the payCloud.io Digital Payment Platform Solved Amigo MGA's Triple Threat
Amigo Managing General Agency has experienced tremendous growth over the past 15 years and company leaders were looking to further improve their performance and capabilities in three areas – cost, compliance and service customization. Learn how payCloud.io's digital payment platform solved these problems and saves Amigo 35-40% each month.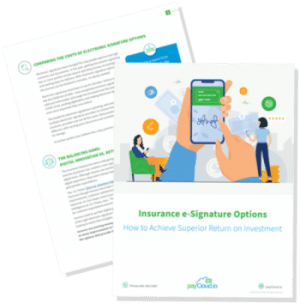 Insurance e-Signature Options: How to Achieve Superior Return on Investment White Paper
The market for electronic signatures is growing, and companies have multiple electronic signature providers to choose from. Learn how to compare providers, where hidden fees are located and considerations for selection. A complimentary cost comparison checklist is included.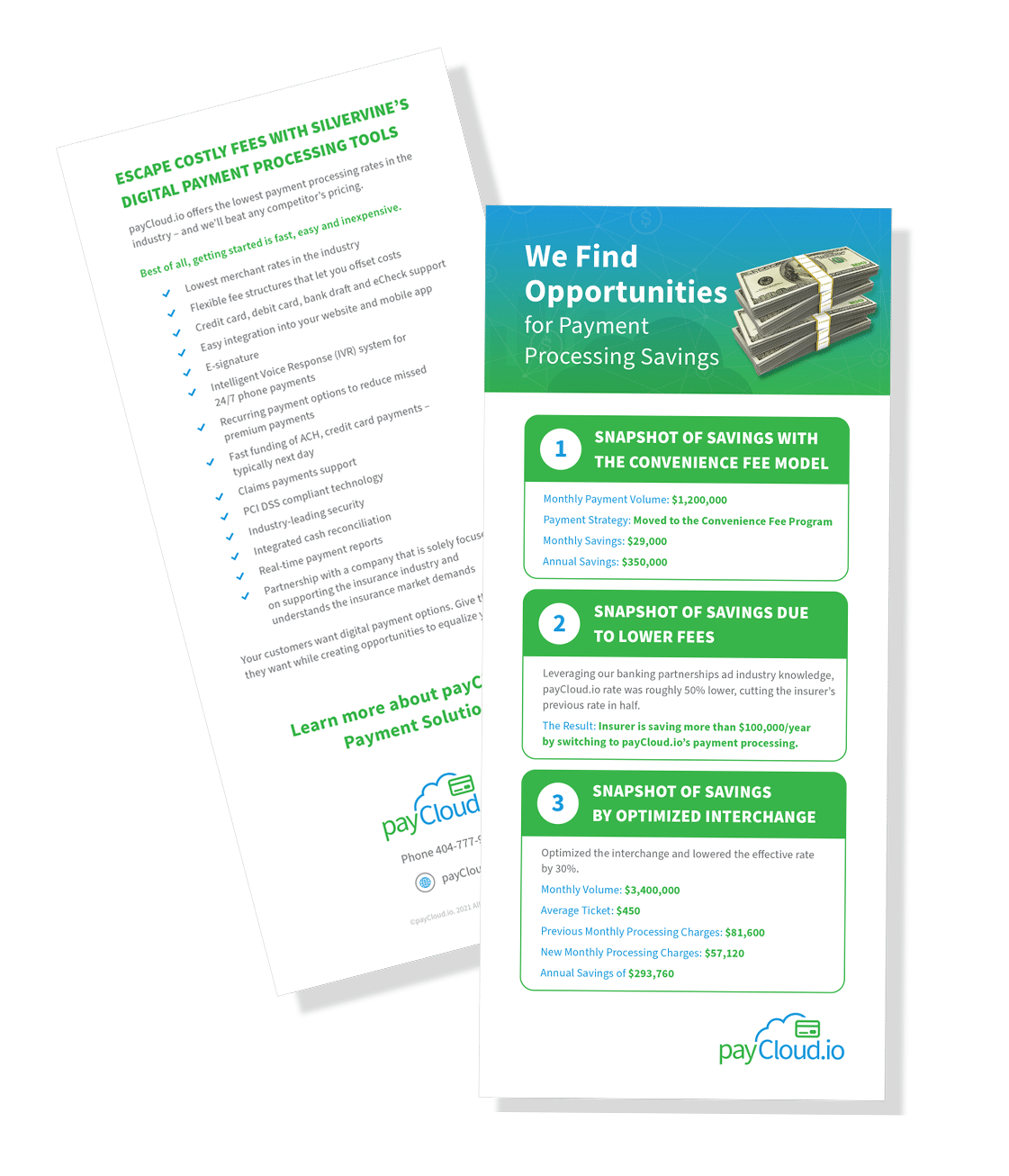 Customer Savings Snapshot
We save our customers hundreds of thousands of dollars each year with lower processing fees and optimized interchange. See a snapshot of how these savings are achieved.
Request a Demo!
With multiple digital payment products, let us show you how our payment hub can drive efficiency and a better customer experience.